NATURE EXCURSION
SAFARI DESTINATIONS IN EAST AFRICA
[themesflat_spacer desktop="13″ mobile="5″ smobile="5″]
SAFARI DESTINATIONS IN EAST AFRICA
East African destination countries allow you to discover the budget safari of Kenya, Tanzania, and Uganda taking in the Queen Elizabeth Park, Masai Mara and Serengeti regions which are home to some of the greatest concentrations and diversity of wildlife on Earth.
East African offers a budget safari wild world waiting to be discovered, Uganda, where chimpanzee and gorillas live free in the forests, track a family of a gorilla with your expert guide. This budget safari is unique but challenging safari offers an unforgettable way to connect with the endangered mountain gorilla. Tanzania budget safari, in the Serengeti and Kenya budget safari, in Masai Mara host the annual Great Migration. A unique budget safari is a spectacle that occurs as huge herds of wildebeests and zebras follow the fresh grazing that sprouts in the wake of the annual rains.
On budget safaris in Kenya's northern regions, spot local species including the endangered black rhino, reticulated giraffe, beisa oryx, Grevy's zebra, and the long-necked gerenuk. Travel to East African luxury safari to Tanzania where you can visit the budget safari Ngorongoro crater, formed by the collapse of an extinct volcano, where more than 30,000 animals thrive in enclosed grassland.
Kenya, Uganda and Tanzania budget safari have some great safari options for East Africa and have destinations you have long wanted to visit. Ever dream of seeing an elephant trumpeting its trunk, a lion licking its lips, or a cheetah sprinting through the grasslands? An African budget safari is a thrilling chance to see wild animals going about their daily lives in their natural habitat. East Africa Kenya Uganda and Tanzania has a huge variety of national parks that offer adventurous opportunities to see wildlife up close like budget safari Ngorongoro crater
Most tourists wonder what accommodation looks like while on Luxury Safari in East Africa. National Park lodges range from Budget to 5 Star facilities. We are specialized in Luxury safari, East African Safaris and offer our guests a variety of accommodations ranging in levels of luxury, style, and comforts; each one with a unique feel and guaranteed to provide an authentic African bush experience. Customize your safari by choosing accommodations that meet your needs and interests.
From a permanent tented lodge or camps, standard camping under the African sky's stars, to a luxurious boutique hotel where you can indulge in fine gourmet dining or authentic home-cooked African cuisine you will find the warm hospitality of the African people unbeatable.
Lodges in East Africa's world-class lodges feature spacious rooms or cottages with four solid walls between you and the African wilderness. Fine dining, swimming pools, spas, gift shops, lounges, and spectacular views.
Tented camps offer the classic safari experience and luxury safaris combining comfort and intimacy in the African wilderness with large walk-in canvas tents with full beds and private bathrooms. It is a classic safari style, Variety of options from light footprint tents to permanent tents built on platforms, it is a really adventurous connection with nature.
Standard camping in public campsites with delicious fresh meals prepared by our experienced safari chefs (self-sufficient with our cook preparing all meals). Spacious sleeping tents, mattresses, pillows, and sleeping bags will bring yours to ensure that you enjoy a comfortable camping experience. Camping Safari accommodation is a true wilderness experience.
MEALS ON SAFARIS
Meals on Safari are excellent, we never get any complaints about the food.
At camping safari three meals are provided a day, Hot meals is our priority whenever possible rather than lunch boxes.
We supply mineral drinking water in the vehicle, Coffee or tea in the vehicle also available when requested.
Most Safaris Accommodations are full board, means that breakfast, lunch and dinner are included.
Coffee and tea is usually included, but whatever you drink with your meal is not.
Drinks are ordered and paid at the table, you may pay cash or sign the bill, to be paid when later checking out
At the Lodges, Tented Camps and Hotels on safari all the cooking are usually international.
All meals at a bush are cooked with fresh food product which are supplied with a vehicle from town. Fruits are seasonal.
The important is to note for any dietary requirements such as vegetarian or gluten free meals etc.
Let us know your meal preferences beforehand, we will happily to notify the camps or Lodges ahead of your arrival,
they can then prepare tasty vegetarian food for you.
Picnics
Some lunches may be had in form of picnics in the bush, either in a dedicated picnic site,
where tables and toilets may be available, or just in some nice spot found along the route.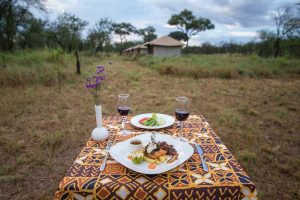 OUR SAFARI VEHICLES
We have a True Off-Road Experience Safari vehicles; we recognize the importance of our fleet to your enjoyment and treat our vehicles accordingly to allowing you to relax and get the most from your trip. Our fleet of sturdy 4x4s is rigorously maintained and serviced to ensure that they cope with the challenges of safari country. We use our own specially designed and converted Toyota Land cruisers. We have put a lot of thought into adapting them to the rugged African bush, the rough conditions and the bumpy roads, providing maximum comfort and at the same time ensuring the best safari experience for our guests.
As there is limited space available in the luggage compartment, we ask all our guests to restrict their luggage to 15 kg in weight. Luggage that won't be needed on safari can be stored in our office in Arusha. Our safari are checked before and after safari, the vehicles have large sliding windows and pop-up roofs, offering excellent views and giving our guests fantastic opportunities for safe and undisturbed photography while on game drives. Our vehicles are fitted with HF radios, WiFi and first aid kits, cushioned seats, map pockets and fridge.  Video camera, mobile phone and other accessories power sockets is installed. Also are equipped with heavy-duty wheels and extra fuel tanks.
FEATURED PACKAGES
 SEE OUR MOST EAST AFRICA SAFARI PACKAGES
[themesflat_spacer desktop="13″ mobile="5″ smobile="5″][themesflat_imagebox_slider slides_per_view="3″ autoplay="yes" show_control="yes" show_direction="yes" hide_buttons="yes"][themesflat_imagebox link="https://www.natureafricantravel.com/8-days-migration-safaris-tanzania" button_text="VIEW ITINERARY…" default_id="themesflat_1495185137″ title="8 Days Migration Safaris Tanzania" class="text-center" image="3065″ image_radius="9″][/themesflat_imagebox][themesflat_imagebox link="https://www.natureafricantravel.com/8-days-tanzania-safaris" button_text="VIEW ITINERARY…" default_id="themesflat_1495185137″ title="8 Days Tanzania Safaris" class="text-center" image="3036″ image_radius="9″][/themesflat_imagebox][themesflat_imagebox link="https://www.natureafricantravel.com/12-days-safaris-in-kenya" button_text="VIEW ITINERARY.." default_id="themesflat_1495185137″ title="12 Days Safaris In Kenya" class="text-center" image="3032″ image_radius="9″][/themesflat_imagebox][themesflat_imagebox link="https://www.natureafricantravel.com/10-days-safaris-and-zanzibar" button_text="VIEW ITINERARY…" default_id="themesflat_1495185137″ title="10 Days Safaris and Zanziabar" class="text-center" image="3068″ image_radius="9″][/themesflat_imagebox][themesflat_imagebox link="https://www.natureafricantravel.com/8-days-safaris-kenya" button_text="VIEW ITINERARY…" default_id="themesflat_1495185137″ title="8 Days Safaris Kenya" class="text-center" image="3070″ image_radius="9″][/themesflat_imagebox][themesflat_imagebox link="https://www.natureafricantravel.com/22-days-east-africa-safaris/" button_text="VIEW ITINERARY…." default_id="themesflat_1495185137″ title="22 Days East Africa Safaris" class="text-center" image="3076″ image_radius="9″][/themesflat_imagebox][themesflat_imagebox link="https://www.natureafricantravel.com/16-days-kili-climb-safari-and-zanzibar" button_text="VIEW ITINERARY…." default_id="themesflat_1495185137″ title="16 Days Kili Climb, Safari and Zanzibar" class="text-center" image="3078″ image_radius="9″][/themesflat_imagebox][themesflat_imagebox link="https://www.natureafricantravel.com/12-days-safaris-in-tanzania" button_text="VIEW ITINERARY…." default_id="themesflat_1495185137″ title="12 Days Safaris in Tanzania" class="text-center" image="3074″ image_radius="9″][/themesflat_imagebox][themesflat_imagebox link="https://www.natureafricantravel.com/15-days-safari-kenyatanzania-and-mombasa-beaches" button_text="VIEW ITINERARY…." default_id="themesflat_1495185137″ title="15 Days Safari Kenya, Tanzania and Mombasa Beaches" class="text-center" image="3076″ image_radius="9″][/themesflat_imagebox][themesflat_imagebox link="https://www.natureafricantravel.com/12-days-uganda-and-kenya-safaris/" button_text="VIEW ITINERARY…." default_id="themesflat_1495185137″ title="12 days Uganda and Kenya Safaris" class="text-center" image="3076″ image_radius="9″][/themesflat_imagebox][/themesflat_imagebox_slider][themesflat_spacer desktop="68″ mobile="30″ smobile="30″]